Happy Friday Everyone!
So as I mentioned last week I went back to the UK for the weekend to party with the
Badass Dad Clan
at the clubhouse with my brothers in the White Wolf Brotherhood Motorcycle Club. What a fantastic thing to be a part of! One of the best parties I've ever had, great atmosphere and full of genuine good people
Badass Dad Clan Meets White Wolf Brotherhood
It was amazing to be back in the UK for a few days and see my brothers, one of the hardest things to deal with for me since we moved is being away from the club. I don't very often post things about my association with the club but here is a picture of me at the clubhouse bar. In the UK the club became my life, I was one of the founding members and was voted in as President when the last President stepped down. Every week we were out and about, going on rides, visiting other clubs and partying at our own clubhouse and the brotherhood side of the club is second to none, being away from it all kills me. A few of us have started the Alicante chapter now but I loved being around my Essex chapter brothers and having a laugh like we used to.
Wolfpack Forever, Forever Wolfpack!
You can see a bit of it in the photo above, but whilst I was in the UK I picked up another bit of ink from my favourite tattoo studio. This time I opted for a realistic compass, it took 4.5 hours and I am so happy with it! I guess now I will always know the direction that life is taking me in :)
My Moral Compass
When I got back there was something else very new and very purple that had materialised outside our chickens corral, a gigantic thistle. I guess I didn't notice it growing up being lost in a sea of green but it is so beautiful now that it has flowered, a giant thistle about 1.5m tall with a flower head the size of a fist
Purple and Proud - Thistle
On a totally unrelated note I have just released a new patch and for the very first time a pin badge too. I LOVED the Addams Family growing up and thought they were the ultimate in cool, so I suppose it was inevitable that I would pay homage to them sooner or later.
"They're Creepy and They're Kooky, Mysterious and Spooky...." (try getting that theme tune out of your head!)
Addams Family Pin Badge and Patch
And as if they didn't look cool enough like that, they really stand out when the sun goes down....
Glow in the Dark Pin and Patch
Boom! What? Glow in the Dark? I must dash now, I think I'm going to surround myself with them and turn off the lights to bask in the spookiness hahaha
Hope everyone has had a fantastic week and wish you all a wonderful weekend :)
*******************************************************************
Five on Friday Weekly Linkup
Welcome to Five on Friday, a weekly opportunity for the community to link up and share 5 things with us or take 5 minutes to talk about one topic. We'd love for you to join us and add a link to your own Five on Friday blog post! It's a great way to make new friends from around the world and gain some motivation to keep your blog updated. Every Friday we'll be sharing a Fast Five and look forward to seeing yours.
How To Join In
Your 5 things can be all on a related topic or 5 totally separate things of your choosing, it's totally flexible and up to you. You might choose 5 photos, 5 quotes or use it to recap 5 things you've done this week, you have the freedom to exercise your creativity!
All that we ask is that you link back to Five on Friday using the button below (just copy and paste the HTML code in to your blog) and try to share the love by visiting & commenting on the other participants blogs. Each week the post will go live at 6.00am GMT on Friday and will close for new link entries at 10.00PM on Sunday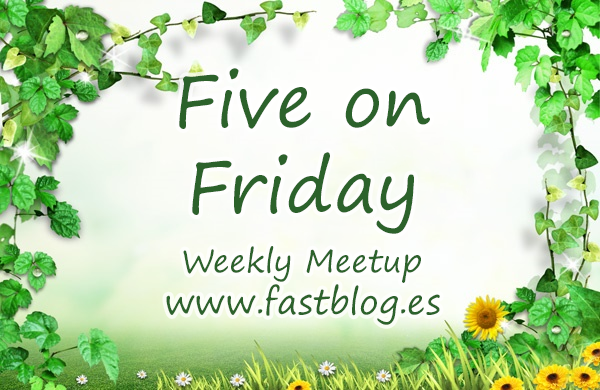 Instructions: Select all code above, copy it and paste it inside your blog post as HTML