May has been a total whirlwind of a month for us, I've only just realised it's June!
The Face You Make When A Palm Tree Grows Out Of Your Head
I've been a terrible blog neighbour of late, owing largely to the amount of travelling about we have done. In the last 6 months we've moved around more than we have in the last 6 years! Although I suppose that is all about to change because we'll be far too busy building the new house to have any time for travel. This week we have finally been told that the paperwork is ready to sign for us to officially complete on the purchase of our new land, it's only taken since January! So things will start getting very busy very soon after that.
Like Father Like Son
Last weekend we escaped on a last minute getaway a bit further south in La Manga to see the brother-in-law before he returns to the Falklands for work. Its a beautiful place with fantastic beaches and a great coastal atmosphere. It really reminds us of just how remote and rural we are where we live, the fact that we get excited when we visit somewhere that has more than one restaurant!
Two Of The Most Amazing Women In The World
It was great to spend time away as a family together, away from home and the businesses and our day to day lives. Carly especially has been so busy with
Lucky Sew and Sew
and releasing the new collection that we haven't had much time to all just have fun together. That's not to say we don't have fun, just that it always seems to end up that someone is working and misses out, usually Carly!
Breastfeeding Sat On The Harbour Wall, As You Do!
It was great to reconnect, to build sandcastles and walk barefoot on the beach, to re-wild a little. Aurora is at that age now where in one photo she looks like a grown woman and in another she looks like the tiny baby that in my eyes she will always be. I love the photo above of her and Carly breastfeeding on the harbour wall, as you probably know Carly is a massive breastfeeding advocate, not surprising since the core of her business is designing and creating hand made nursing bras.
I'll leave you with a snap of the view from our apartment that weekend, our little slice of paradise before the storm of building an entire house ourselves. Thanks for stopping by this week for Five on Friday, we hope you have a fantastic weekend!
Cheers To The Weekend
*******************************************************************
Five on Friday Weekly Linkup
Welcome to Five on Friday, a weekly opportunity for the community to link up and share 5 things with us or take 5 minutes to talk about one topic. We'd love for you to join us and add a link to your own Five on Friday blog post! It's a great way to make new friends from around the world and gain some motivation to keep your blog updated. Every Friday we'll be sharing a Fast Five and look forward to seeing yours.
How To Join In
Your 5 things can be all on a related topic or 5 totally separate things of your choosing, it's totally flexible and up to you. You might choose 5 photos, 5 quotes or use it to recap 5 things you've done this week, you have the freedom to exercise your creativity!
All that we ask is that you link back to Five on Friday using the button below (just copy and paste the HTML code in to your blog) and try to share the love by visiting & commenting on the other participants blogs. Each week the post will go live at 6.00am GMT on Friday and will close for new link entries at 10.00PM on Sunday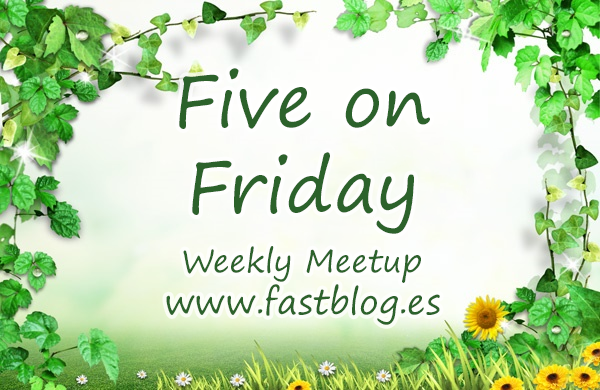 Instructions: Select all code above, copy it and paste it inside your blog post as HTML