Today is a glorious day.
If you could bottle happiness......
It is the day we find out what happened in the general election. Since I'm writing this on Thursday I do not know the outcome yet but I genuinely think it is the most important election of my lifetime and eagerly await the results. But for us today is important for a very different reason, we have officially become land owners!
Yesterday we finally completed the purchase of our land, it has taken six months from start to finish but we are now the proud owners of 5 acres and can start building our forever home at last!
Today is also the day that I fly back to the UK so see my old friends, my brothers in the White Wolf Brotherhood Motorcycle Club for a party this weekend and to get a new tattoo. This will likely be the last time I travel anywhere away from the homestead for quite some time as we'll be busy building the house and setting up the infrastructure on the land etc.
If anyone wants to get involved we will be building facilities for people to come and stay with us so they can help out with the build, anyone staying with us will also be able to attend the courses taking place free of charge. At the moment I believe there will be a straw bale building course, an earth plaster and lime render course and also a green roofing course. There will also be various other natural building courses and no doubt a few permaculture courses over the next couple of years too :)
So this week I'll talk about 5 things I'm looking forward to now that we own the land:
The Land
I cannot wait to get started with the land! To get to know every part of it intimately, to study the wildlife, the flora and fauna and feel the passings of the seasons and their impact on our ecosystem. I want to use permaculture and regenerative agriculture to put in place the systems that will not only heal the land but improve beyond that and create a thriving diverse ecosystem, a naturally abundant food forest.
The House
I haven't shared much detail about the house we are designing yet because I didn't wan't to jinx things before the land was signed off. We have been working with our architect to create a house shaped like an almond flower, drawing inspiration from the hundreds of almond trees growing on our land. It will be built from straw bales, with lime render on the external walls and earth rendered internally. this will all be topped off with a living green grass roof planted with wildflowers and a geodome that will light up an interior courtyard that will be used as a library and meditation space. I'll be putting up photos soon of our architects 3D model of the design
The Kitchen Garden
This is something that excites and terrifies me in equal measure! We'll be creating no dig beds and trying to supply as much fresh fruit, veg, herbs and nuts to the kitchen as possible. I'm looking forward to installing the kitchen garden and designing the layout but the scheduling and timing is the bit i'm not looking forward to as I'm not the most organised person, luckily I have some of the most amazing friends that have this type of thing down to an exact science so once I learn how to tweak things to our climate it should be a bit more manageable.
The Animals
We already have chickens but I'm so excited about the possibilities on our own land. I'd like to keep quail again, and some ducks, we've spoken about turkeys, and goats.......and pigs. OK OK I know, I just want all of the animals. I can't help it, I love spending time with them and getting to know their quirky little personalities is the best. Of course the fact that we are vegetarian now makes it easier knowing that I'm not making friends with these animals only to eat them at a later date!
The Family
I've saved the best til last, I cannot wait to go through all of the experiences of this adventure with our family, for the kids to see their parents and grandparents build the farmhouse, to learn about sowing and growing, animal and land management and all the ups and downs of the homesteading rollercoaster. I also can't wait to share it with our extended family, our blog readers and the people that touch our lives through social media. There are so many friends that have said they want to get involved and come out to help with the build and visit that I know we will have the time of our lives
It's taken what seems like an eternity, but things will finally start to REALLY happen now, watch this space!
Wishing you all a Wonderful Weekend, thanks for stopping by and joining us for Five on Friday :)
*******************************************************************
Five on Friday Weekly Linkup
Welcome to Five on Friday, a weekly opportunity for the community to link up and share 5 things with us or take 5 minutes to talk about one topic. We'd love for you to join us and add a link to your own Five on Friday blog post! It's a great way to make new friends from around the world and gain some motivation to keep your blog updated. Every Friday we'll be sharing a Fast Five and look forward to seeing yours.
How To Join In
Your 5 things can be all on a related topic or 5 totally separate things of your choosing, it's totally flexible and up to you. You might choose 5 photos, 5 quotes or use it to recap 5 things you've done this week, you have the freedom to exercise your creativity!
All that we ask is that you link back to Five on Friday using the button below (just copy and paste the HTML code in to your blog) and try to share the love by visiting & commenting on the other participants blogs. Each week the post will go live at 6.00am GMT on Friday and will close for new link entries at 10.00PM on Sunday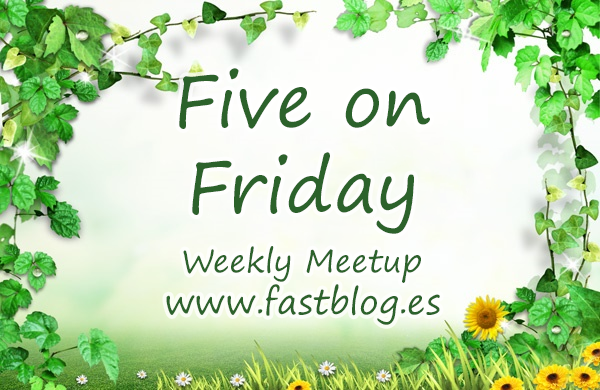 Instructions: Select all code above, copy it and paste it inside your blog post as HTML