It's that time of the week again :)
Hiking
I revisited
Camp Echo
with Logan and this time we took Aurora along with us too! We set the stove up and had a Chocolate Mint Tea and some snacks whilst overlooking the stunning mountain views
The coolest hiking companions I know!
Logan enjoying the great outdoors
My mischievous little madam
I think the more that kids can be outdoors the better. So many children these days spend the majority of their time indoors on computers, I think it's important to find a balance between technology and the outdoors/old ways.
Technology
Whilst our little ones are not allowed to spend all of their time on computers we are not complete technophobes (far from it since our businesses rely on the internet and social media) however we make it clear to the children that computer gaming is a treat and use game time as a reward for good behavior and completion of chores. At the moment the Xbox has died so I've taken it apart and ordered the parts that I believe will fix it.
Here's what's under the hood of the Xbox 360
It all looks very complicated but to be honest the hardest part about this type of thing is getting the casing open in the first place because it has built in security measures, the rest is child's play.
Play Time
Being unable to play Lego Marvel on the Xbox hasn't stopped us from being superheroes though
Spidey and a very hairy Captain America
Moving from one spidey to another, ee've also been playing play dough a lot recently, usually animals and insects are in high demand
Play Dough Spider
And I must confess that sometimes I get carried away with it!
I'm a Snek!
Big Boys Toys
My latest bit of kit is the beauty of a knife below, a Fällkniven F1. Made in Sweden it is one of the most highly regarded knives on the survival/bushcraft circuit
Fällkniven F1 Knife
Mixing old with new in this photo, I've had the SAS Survival Handbook since I was a kid and even left it out overnight in the rain once and after carefully peeling the pages apart and drying it it is still here 20 years later. Anyone that is in to survival/preparedness should own a copy and if I had my way they would hand one to every school kid as a coming of age gift. It covers things like how to light a fire, build a shelter, sharpen a knife, hunt, fish, read animal tracks and build traps etc and really is an incredible read if you're in to that kind of thing.
Birds
This is one of the many houses in our village that is uninhabited:
uninhabited...or is it?
Except it isn't completely uninhabited, on closer inspection it has some unlikely tenants:
Birds in the eaves
I believe they are swifts but would like to hear from someone more informed to confirm/correct this.
Tomorrow Me and Carly are off for a long weekend in Amesterdam to celebrate our 7th Anniversary last week so no doubt next weeks Five on Friday will be Amsterdam themed.
Hope everyone has a fantastic weekend!
*******************************************************************
Five on Friday Weekly Linkup
Welcome to Five on Friday, a weekly opportunity for the community to link up and share 5 things with us or take 5 minutes to talk about one topic. We'd love for you to join us and add a link to your own Five on Friday blog post! It's a great way to make new friends from around the world and gain some motivation to keep your blog updated. Every Friday we'll be sharing a Fast Five and look forward to seeing yours.
How To Join In
Your 5 things can be all on a related topic or 5 totally separate things of your choosing, it's totally flexible and up to you. You might choose 5 photos, 5 quotes or use it to recap 5 things you've done this week, you have the freedom to exercise your creativity!
All that we ask is that you link back to Five on Friday using the button below (just copy and paste the HTML code in to your blog) and try to share the love by visiting & commenting on the other participants blogs. Each week the post will go live at 6.00am GMT on Friday and will close for new link entries at 10.00PM on Sunday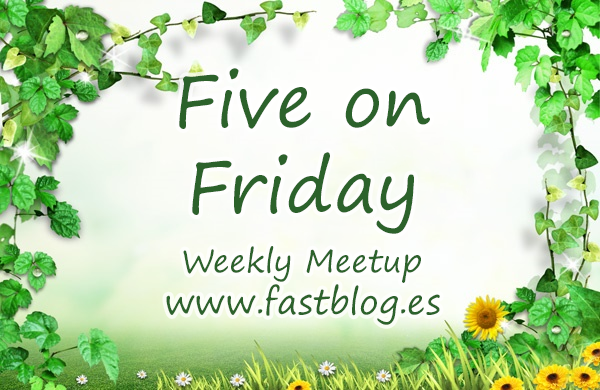 Instructions: Select all code above, copy it and paste it inside your blog post as HTML