Five on Friday Time Again! It seems to have come around especially quick this time since we've been away.
This week I had hoped to share with everyone the many wonderful sights and delights of Amsterdam, but my phone had other ideas. On our last day there my phone died a death and so far I haven't been able to get it on or get it to play ball with the PC to retrieve them :(
Luckily between the few photos I uploaded to Instagram and the ones Carly shot on her phone I can still share some of our experience with you:
First off our flight got cancelled by Easyjet 2hours before we were due to leave, luckily we managed to grab the last 2 seats on a KLM flight but it meant that instead of getting to our apartment around 7 oclock and going out to explore we didn't get in until almost midnight so we lost an evening of exploring Amsterdam. The next morning we were ravenous so went in search of the best place Haarlem had to offer (according to tripadvisor)
By Lima
By Lima is simply amazing, I'd say it is the best breakfast I've ever had in my life.
Outside By Lima
All of the food at By Lima is vegetarian and almost completely sourced fresh locally. I had the breakfast platter which consisted of strawberries, hazelnuts and chocolate spread on toast, old farmers cheese on fruit toast with avocado, a pot of chia pudding and to top it off freshly squeezed orange juice! A real great start to the day :)
By Lima Breakfast Platter
Carly had "Cheesy Eggs From the Oven" which is fairly self explanatory and she thought it was so delicious that she had it again another day,
Cheesy Oven Eggs at By Lima
The Apartment
Our apartment overlooked one of the beautiful canals in Haarlem, we found it on Airbnb and for the low price it was a beautiful place to spend a long weekend
Haarlem Airbnb apartment
Carly lounging in the window seat
Art & Architecture
We visited the Rijkmuseum in amsterdam, home to some fantastic works of art, including several pieces of Rembrandt and a few Van Goghs too.
Original Self Portrait
Opposite the museum is a fantastic old Dutch house which looked too good to not take a photo of
Beautiful Architecture
Tuschinski Theater
We booked a fancy "love seat" lodge booth at the tuschinski which is a fantastically decadent way to enjoy theater, or in our case King Arthur in 3D (best film I have ever seen to date)
Pathe Tuschinski Theater
Coffee Shops
I thought long and hard about whether to include this one, I'm sure there will be those that would disagree with what we do in our personal time but I do not feel the need to hide who I am. Yes we visited the coffee shops, yes they are fantastic. Not only can you buy practically any strain you want over the counter but the list of other products is almost never ending. Cookies, Brownies, Muffins, Truffles, Energy Drinks even Ice Cream loaded with the good stuff if you prefer edibles to smoking. I personally fell in love with the truffles we had on our last night, mind blowingly strong, I've never been so high in my life!
If you don't want to sit in and smoke at the coffee shops you can even buy pre-rolled joints to take away that come in little plastic tubes made from hemp plastic!
"Takeaway" joints in hemp plastic tubes
Warning, injecting just one marijuana a day can turn you into a Hippy Hempo
I hope no one is reeling from shock at the news that the dreadlocked hippy biker partakes in the occasional herbal high, I think if more people were honest about it cannabis would probably have been legalised decades ago! The dungarees I'm wearing in this photo are Levi Silver Tab and came from an amazing little vintage shop in Amsterdam called Episode, well worth checking out for a vintage bargain or three.
Thanks for stopping by for Five on Friday, We hope you have a wonderful weekend :)
*******************************
***********************************
Five on Friday Weekly Linkup
Welcome to Five on Friday, a weekly opportunity for the community to link up and share 5 things with us or take 5 minutes to talk about one topic. We'd love for you to join us and add a link to your own Five on Friday blog post! It's a great way to make new friends from around the world and gain some motivation to keep your blog updated. Every Friday we'll be sharing a Fast Five and look forward to seeing yours.
How To Join In
Your 5 things can be all on a related topic or 5 totally separate things of your choosing, it's totally flexible and up to you. You might choose 5 photos, 5 quotes or use it to recap 5 things you've done this week, you have the freedom to exercise your creativity!
All that we ask is that you link back to Five on Friday using the button below (just copy and paste the HTML code in to your blog) and try to share the love by visiting & commenting on the other participants blogs. Each week the post will go live at 6.00am GMT on Friday and will close for new link entries at 10.00PM on Sunday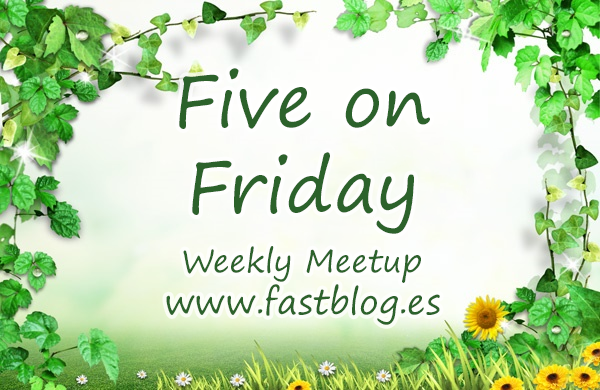 Instructions: Select all code above, copy it and paste it inside your blog post as HTML