Easter week has flown by and I almost can't believe that it is time for Five on Friday already!
It is Auroras 2nd birthday tomorrow so we will be getting everything prepared for the little tea party that we've planned to throw for her, so this week I really do have a Fast Five to share with you
Roses in Bloom
1. Roses
We have a red rose bush at the front of our terrace and over the space of the last week it has burst in to life with dozens of huge red roses, it seems silly to say it but no rose scent comes close to the perfume of a real rose, especially when they are still on the bush.
Traditional Dish
2.When in Spain
Our Spanish neighbours are without a doubt the best neighbours we've ever had, they are fantastic friends with our children and have welcome us with open arms in to the area and their lives. On Easter Sunday they invited us to join them and their family in the Easter celebrations, there was music, good food, cold beer and dancing. Despite only having a basic grasp of the language and them being unable to speak a word of English we are treated as part of the family and for that I will be forever grateful to them. Juan showed us how they cook a traditional dish that is typical of the province, it is like a garlic dough that is cooked over an open fire and flipped like a pancake! It tasted delicious and Juan has said that he will cook it again for Rori's birthday to mark the occasion :)
Monas De Pascua
3. Easter Cake
Rather than chocolate eggs (which are almost impossible to find over here) in Spain they celebrate with Monas De Pascua which is a sweet bread with a hard boiled egg in the middle, often stained/painted bright colours. Not wanting our little ones to miss out on this time honoured tradition our neighbours Juan and Lola bought the kids one each as a gift for Easter. I imagine it's probably healthier than the chocolate and at least it doesn't melt in the heat here!
Paella Time!
4. Paella
We seem to have a very Spanish theme going today don't we? Over the Easter weekend we tried one of our all time favourites, but this is the first time we've made it since we turned veggie. Instead of the meat we used artichoke hearts and it came out just as delicious as it always used to. above you can see the Father-in-law Terry being head chef over the paella pan
Dragons Fire!
5. Embroidery
This week we completed one of our favourite custom embroidery orders. The patch above was for a charter of the UKSN (UK Survival Network) and for those like myself that cannot decipher Gaelic it reads: "North Wales, UKSN, Dragons Fire". I think it looks fantastic and fierce, it almost makes me wish I was Welsh!
I hope you all have a wonderful weekend, thanks for stopping by and for those joining in be sure to visit other participants and spread the love, TTFN!
*******************************************************************
Five on Friday Weekly Linkup
Welcome to Five on Friday, a weekly opportunity for the community to link up and share 5 things with us or take 5 minutes to talk about one topic. We'd love for you to join us and add a link to your own Five on Friday blog post! It's a great way to make new friends from around the world and gain some motivation to keep your blog updated. Every Friday we'll be sharing a Fast Five and look forward to seeing yours.
How To Join In
Your 5 things can be all on a related topic or 5 totally separate things of your choosing, it's totally flexible and up to you. You might choose 5 photos, 5 quotes or use it to recap 5 things you've done this week, you have the freedom to exercise your creativity!
All that we ask is that you link back to Five on Friday using the button below (just copy and paste the HTML code in to your blog) and try to share the love by visiting & commenting on the other participants blogs. Each week the post will go live at 5.00am GMT on Friday and will close for new link entries at 10.00PM on Sunday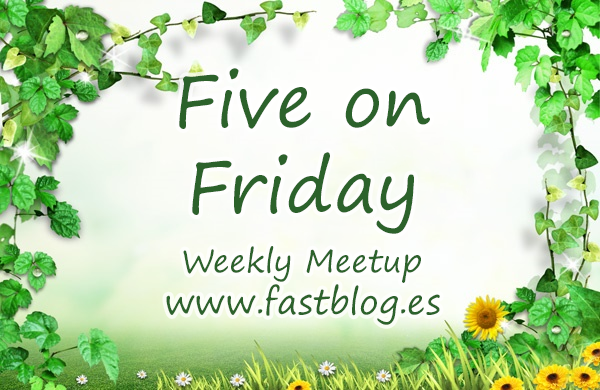 Instructions: Select all code above, copy it and paste it inside your blog post as HTML