Why do we need to carry a container?
All animals need water, and humans are no different
Enter the humble container, because carrying water long distances in your hands is not always ideal.
On a hot day you will be glad to have a bottle of water to drink, but it also comes in handy for so many other things, every thing from cleansing a wound to cooking food in.
Most people will recommend that you carry a stainless steel bottle as they are robust and you can boil your water directly in the bottle. Some people even go so far as to opt for a titanium bottle to save a few grams of weight, but this seems petty considering most of the weight of any bottle is the fluid inside it.
My preference in containers is the Crusader Cup made for the British Military by BCB.
To be honest I carry the entire Crusader Cookset because it doesn't take up much extra space and gives me more options.
Water is great in the summer but I'd much rather have the ability to brew a cup of tea in the Winter.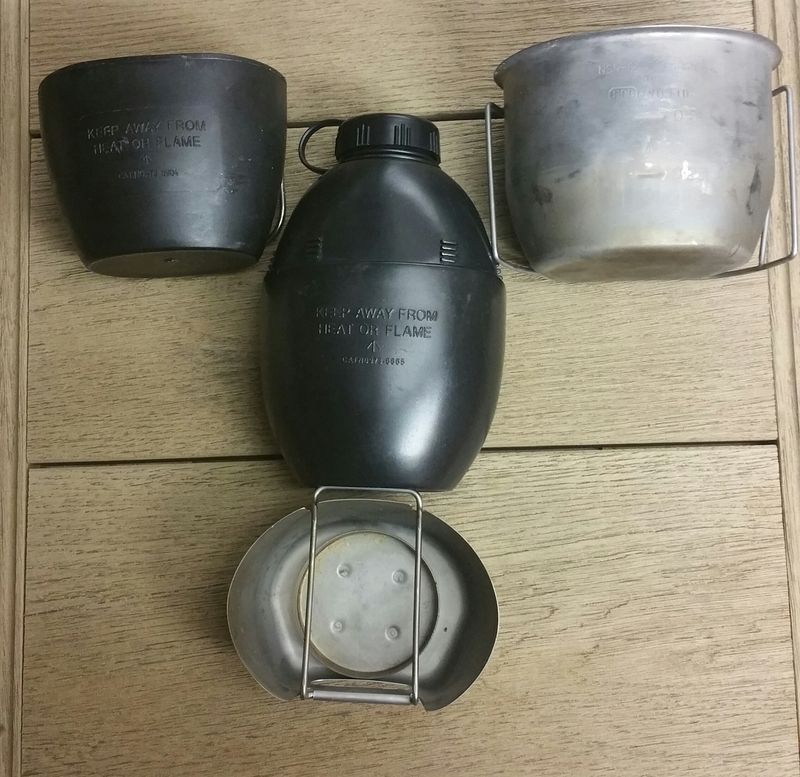 BCB Crusader Cookset
The Crusader Cookset comprises of a NATO 58 pattern water bottle and plastic cup, the Crusder Cup and a small stove unit. The stove can run on solid fuels such as Hexamine tablets, Methylated spirits etc Personally I use green Bio-Ethanol as it is relatively inexpensive, non-toxic, doesn't create an awful meths smell and burns clean so you don't get the black hexi soot all over your kit.
One of the advantages of this setup is that if you are out and about with company you have two cups so don't have to share, or if you are alone you can drink a cuppa while you're cooking food etc.
BCB Crusader Cookset packed away
When packed away it all stays in a small kitbag at the bottom of my backpack with teabags, powdered milk and tube of green alcohol to fuel the stove.
Do you carry a bottle of water on a daily basis? and if so what do you carry it it?