Natural "Real" Ginger Beer You Can Make at Home
Early on in this blog I recalled how my grandmother used to brew ginger beer, she kept it in her air-raid shelter and it was not unheard of for there to be an explosion of ginger and glass when the temperature went up in the summer!
Luckily we will be avoiding explosive bottles in this version so don't let that worry you. This Method makes approx 2L of mildly alcoholic Ginger Beer per batch, and costs roughly the same as a botle of ginger beer from the supermarket, but with the bonus that you know exactly what is in it, have bragging rights for having made it yourself and can adjust it to your exact tastes. The flavour is a million times better than anything from the highstreet and isnt pumped full of chemicals and E numbers.
To get started you will need what is known as a "Ginger Beer Plant" (plant as in factory not leafed variety, although it does grow!). My plant is based on my Grandmothers brewing and was passed down to me by my mother, but I will show you a very simple method to make your own. You can substitute ground ginger for grated ginger:
GINGER BEER PLANT
Mix together:
2oz bakers yeast
2 level teaspoons of granulated sugar
2 level teaspoons of ground ginger
1/2 pint warm water
(this should be warm not hot water, it is better to boil the water and let it cool instead of using it straight from the hot tap as this allows the chlorine to evaporate so it doesn't hinder the yeast/bacteria)
this can be kept in a mason jar, plastic tupperware or almost any container you have to hand. If you keep the container open it will capture natural yeasts in much the same way as sourdough starters do, but don't worry if it is kept in an airtight container, it will get enough air when you open to feed the plant.
each day for 7-10 days "feed" the mixture with:
1 level teaspoons of granulated sugar
1 level teaspoons of ground ginger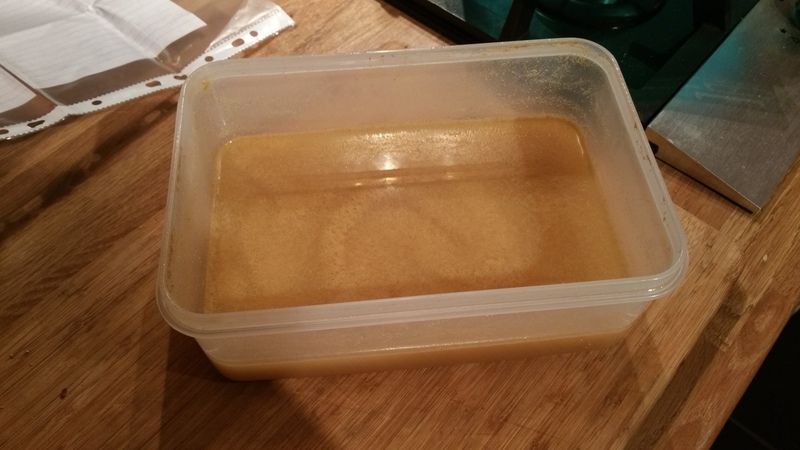 After 7-10 days you should have a bubbling creature that smells of yeast ginger and alcohol.
Time to strain!
Strain through a muslin cloth, it is easiest to place the cloth in a sieve and pour through that. Keep the sediment that is left behind on your cloth and divide it in two, this will be the Ginger Beer Plant to start off your next batch + a spare to either make more or give away.
Sediment Left behind. This will be enough for TWO Ginger Beer Plants
To the strained liquid add:
The Juice of 2 lemons
225g granulated sugar
1 pint of boiling water
Bottle and let sit for 1 week and you should be left with a delicious fizzy ginger beer.
You can taste before then, and if it is sweet and fizzy enough for your liking then put it in the fridge to stop fermentation.
The first batch I made I used 1lb of sugar before bottling, this made the ginger beer VERY sweet and VERY fizzy, to the extent that when I opened the bottle it went off like a shaken bottle of champagne! to avoid this I modified the recipe to use less sugar, and refrigerating after one week will help avoid explosions!
I love that my plant was passed down to me by my mother, and I will no doubt pass a plant that is descended from it on to my children, meaning it will have been in my family for 3 generations!
Disclaimer: If you use too much sugar and let it get too hot you will find out exactly why my Nan used to keep the glass bottles of ginger beer in a concrete bunker away from the house!
EDIT: MAKE SURE YOU USE PLASTIC BOTTLES, GINGER BEER IS MORE THAN CAPABLE OF EXPLODING EVEN THE KILNER TYPE BOTTLES SHOWN IN THE PHOTO, AS WE FOUND OUT FIRST HAND ON OUR SECOND BATCH! SEE HERE