For those that don't know, if you go in to most big supermarkets an hour or so before closing there will be products that are near their best before date, reduced to a fraction of their full price. Now most people will turn their nose up at these items, but if you are eating it the same day, have space in the freezer or own a dehydrator you can pick up some delicious food for real bargain prices.
Well, Well, Well, I popped in to Sainsburys on the way home from work, I only intended to pick up a pack of sewing needles but couldn't resist when I was greeted by a sea of yellow stickers in the fresh section!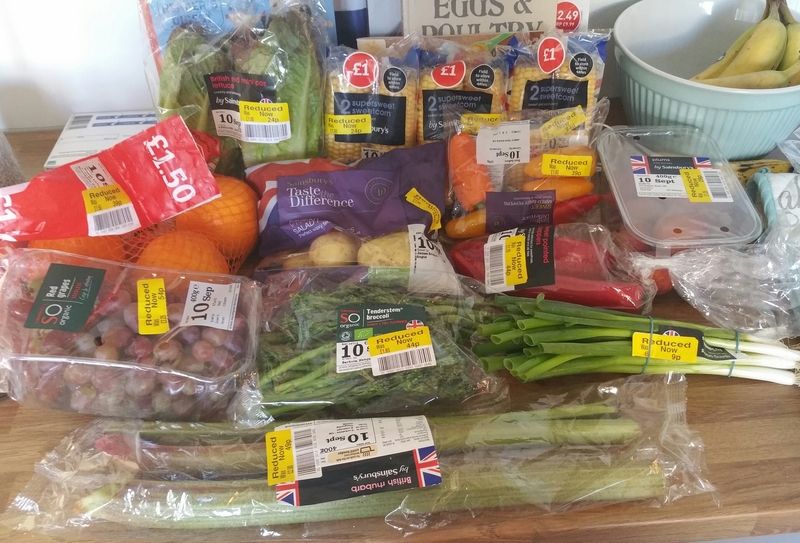 The items in the photo were all picked up on one trip to Sainsburys at about 4.45pm on a Thursday evening, but we regularly get these type of reduced deals from our local Morrisons and Asda too so its always worth a look.
Here's what we picked up:
3 x 2pk Whole Sweetcorn on the cob: was £1.00 , reduced to £0.24
1 bag potatoes was £1.60 , reduced to £0.39
1 bunch of spring onions was £0.45 , reduced to £0.09
1 x 2pk Red cos lettuce was £1.00 , reduced to £0.24
1 punnet English Plums was £1.25 , reduced to £0.29
1 pack tender stem broccoli was £1.85 , reduced to £0.44
1 pack Rhubarb was £2.00 , reduced to £0.49
1 pack sweet pointed peppers was £1.70 , reduced to £0.44
1 bag oranges was £1.50 , reduced to £0.49
1 bag mixed baby peppers was £1.65 , reduced to £0.39
So the total for all these items should have been £16.00, and the total we actually paid for it was only £3.98, less than a quarter, more than 75% saving! Some of the items are organic or taste the difference range too! And their is nothing wrong with any of it, it is just nearing its best before date (which are only vague guide lines anyway but we'll cover that another time). Also since this trip was fairly early in the day, these items would have been further reduced if I had been there later!
I didn't even pick up everything that was on offer as I was on the motorcycle and had to fit it into my backpack, but it goes to show you can feed your family for a fraction of the retail price if you get creative and store foods efficiently. I hope this inspires more people to hit the supermarkets in the golden hour before closing, usually 7 o'clock is the best time to get reduced stock as it is on final reduction and can often be picked up for pennies. There is no shame in it, and if you don't but these reduced items they will likely be thrown away so it is an environmentally sound practice as well as a money saver.
We ate the grapes after dinner with the kids who absolutely loved them :)
The one thing I try to do is not take everything that's reduced, if you leave some behind then someone that maybe needs it more than you will have the opportunity to get some too. Thanks for reading, Happy Hunting!